Tesco gain approval for Paisley store
|
Send to friend
April 2 2010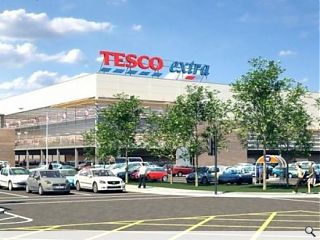 Tesco has been granted planning permission for an 11,000sq/m Paisley store, despite concerns over a negative impact on the town centre.
To mollify these concerns the retailer will instate a bus service and improve pedestrian connections between the Wallneuk site and the town.
Under store parking is provided to the north of the site and wind turrets will be used for passive ventilation.
In their report on the Ian Burke Associates designed scheme A+DS said: "We support the considerable effort that has gone into trying to create a new street frontage to Renfrew Road and welcome the proposal for an additional bus lay-by at the front of the store to help provide better connections with public transport in the area."
The design watchdog were critical of the positioning of a petrol station on the site however, arguing that it served to further dislocate store from town.
Back to April 2010