Kapoor puts London's Olympic plans into Orbit
|
Send to friend
April 1 2010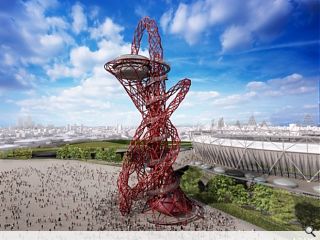 Artist Amish Kapoor has unveiled a vertigo inducing confusion of steel to mark the upcoming London 2012 Olympics.
Britain's biggest ever artwork is intended to redefine the whole idea of a tower with a confection that teeters and totters in apparent "instability" and "movement".
Kapoor explained: "Traditionally a tower is pyramidal in structure, we've done quite the opposite. We have a flowing, coiling form that changes as people walk around and within."
Wary punters can rest assured that engineer Cecil Balmond of Arup has devised a means of keeping the gravity defying spindly steel spiral aloft as they climb to a 120m high viewing platform offering dizzy views of London's east end.
Steel magnate Lakshmi Mittal is stumping up £16m of the £19.1m projects costs.
Back to April 2010