Nord\'s Drouth Bar finds permanent Glasgow home
January 17 2005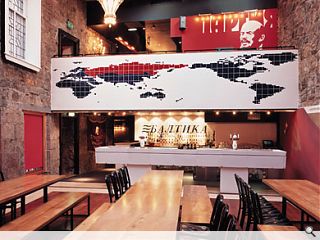 Nord Architecture has recently completed a new Russian-themed bar, Stavka, on Glasgow's Sauchiehall Street. The interior is black red and gold and furniture is influenced by 1920s Russia. To the rear of the ground floor, a balcony overlooks the three-storey Main Hall, with communal bench seating and reclaimed seats from Navy submarines.
Stavka also provides a permanent home for Nord's wacky \"Drouth Bar\", a bar assembled from ceramic components normally associated with hospitals, mortuaries and public toilets. A series of Belfast sinks form the central area, which is used to chill bottles, and a continuous channel around the edge to contain ice.
"Drouth" was exhibited at the Milan International Furniture Fair earlier this year.
Nord is also currently working on an interior fit-out for a new Glasgow branch of the exclusive Hallion Club, a private members\' club in Edinburgh. The Bath Street club, within a four-storey Georgian townhouse, will include three bars, a restaurant, Japanese-style garden and six bedrooms and should open its' doors early this year.
Back to January 2005