3DRreid on a roll with adaptable learning concept
February 25 2010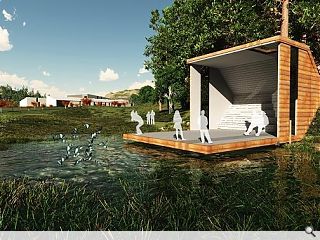 3DReid have teamed up with bespoke treehouse designers Blue Forest to bring everyone's favourite childhood retreat back down to earth as an innovative external learning environment.
Dubbed rotatED the multi purpose structure consists of a single adaptable module that can be turned on any of its seven sides to create a versatile outdoor space for learning and performance.
The quirky concept was developed in response to requests from staff and pupils for an outdoor space that would promote healthy living, environmental awareness and social interaction.
Each simple pavilion provides a 'base shelter' which users can adapt to suit their needs and budget through procurement of additional features such as external finish, screens and photovoltaic panels.
Built from sustainable sourced timber with the option of wind turbines and rainwater harvesting the structure promises to put a fresh spin on ecological awareness.
Mass production methods ensure that a base build can be installed on site within around 10 days.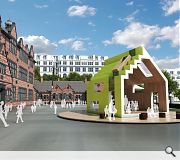 Doors become windows and walls become floors in this head twisting outhouse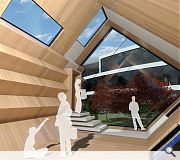 Non location specific the unit can be deposited in both rural and urban landscapes
Back to February 2010