US unveils UK Embassy design
February 24 2010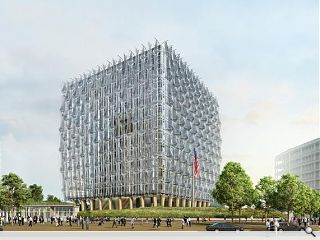 The United States government has unveiled plans for its new British embassy in London as it swaps the genteel environs of Mayfair for the rather less salubrious locale of Wandsworth.
A $1bn dollar reinforced glass cube set back from the street behind landscaped ditches and moats is planned complete with At 12 storeys in height the 45,000sq/m building has been likened to a 21st century Tower of London.
James Timberlake of architects KieranTimberlake said: "Within those particular landscapes are elements of the security perimeter that are not apparent to the eye, there are no walls and no fences and I suspect we will see no bollards as well."
The United States existing embassy at Grosvenor Square is the largest in Europe but regarded as too small and vulnerable to attack. It will be sold to the Quataris.
London is the latest of 67 overseas missions to be rebuilt by the US since a series of bombs in 1998 killed 200 people in US missions in Nairobi and Dar es Salaam.
If approved the embassy could be under construction in 2013 for completion in 2017.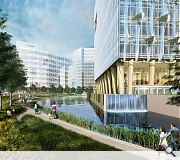 A landscaped moat doubles as recreation space and blast proof buffer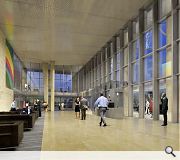 Modernist influences are apparent in a voluminous atrium
Back to February 2010