"Door still open" for Stow to join New Campus fold
February 16 2010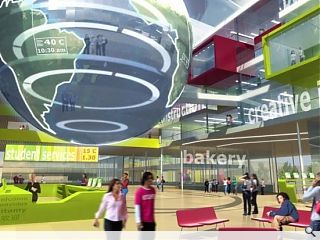 Alan Little, principal of Glasgow's Central College, has sought to reassure Stow College, who pulled out of the cities New Campus project last year, that no compulsory redundancies will be made.
Little stated that the "door was still open" to Stow climbing back on board but added that all participants had to balance what is desirable with what is affordable.
It is hoped further frictions can be avoided when a curriculum review sets about resolving issues of duplication and establishes a new subject clusters.
Doubts have been cast on the Scottish Funding Council's commitment to provide the full £300m support it had pledged after it called for a funding review last year to see if the project could be delivered for less.
He was speaking as the first image of Atkins Campus scheme was published in the local press, a picture that has done little to allay the fears of New Campus runners up who expressed concern that the winning scheme would not meet Glasgow's aspirations.
Back to February 2010