Heated debate kicks off over Page/Park's Carrochan
February 11 2010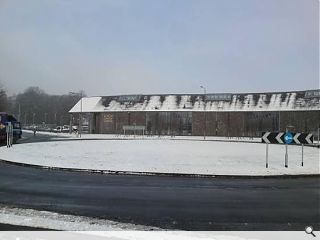 Loch Lomond & The Trossachs National Park Authority have refuted claims of poor insulation at their Page/Park designed HQ building made by local resident Angus MacMillan, who snapped melting snowfall on the roof of the premises.
MacMillan remarks of his contentious pic: "It shows the roof over the heated section of the Loch Lomond and the Trossachs National Park Headquarters had lost much of its snow almost immediately, obviously due to a significant heat loss from within the building, whereas the unheated area over the entrance was unaffected and remained snow covered until it thawed naturally.
"This seems to indicate the building is insufficiently insulated to retain its heat energy and, therefore, not achieving its claimed environmental sustainability."
In response the park Authority affirmed of Carrochan: "It is important to point out that as expected the temperature of the roof over the heated area is higher than the temperature of the roof over the non-heated area. This will be the case regardless of the level of insulation as no insulation stops 100% heat loss. Therefore, it is not surprising that the snow melted more quickly over the heated area of the building.
"The canopy at the entrance is an outside space so the snow would take longer to melt, as it was being chilled from below as well as above."
Back to February 2010