Dialight delight as LED lighting put on trial
February 5 2010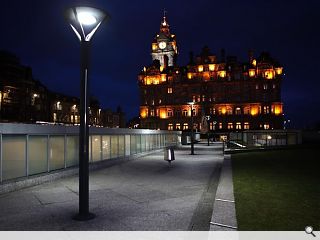 First there were oil lamps, then gas before today's incandescent bulbs arrived. Now LED lighting is set to be introduced to the streets of Edinburgh following a Princes Mall trial of the technology.
Dialight have retrofitted LED light heads into existing street furniture to demonstrate the advantages adoption can bring, such as extended life and resistance to vandalism.
In addition a reduction in power consumption, improved quality of light and the ability to control light pollution ensure that they are economical, practical and environmentally friendly.
Smart controls such as proximity sensors can also be adopted to allow lamps to react automatically to passing vehicular and pedestrian traffic.
Back to February 2010