Brickish Association scales the Forth Rail Bridge
February 5 2010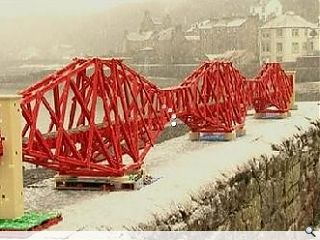 Warren Elsmore, chairman of Lego fanclub the Brickish Association, has fashioned a scale model of the Forth Rail Bridge.
Stretching to 6.5m the 11,000 brick structure presented particular problems for Elsmore, problems doubtless familiar to his engineering forebears.
In particular the intersection of pylons and supports on the bridge base proved tricky to realise with parts of the model in compression and others in tension. Sections even flex when under load – just like the real bridge.
A fan made software package dubbed LDraw was used to aid the design process, containing a full library of each specialised element in Lego's extensive catalogue.
These can then be manipulated virtually to test out concepts.
Unfortunately the plastic bricks fare less well when used to run regular train services, "They turned to dust" remarks Elsmore.
The Lego copy does harbour one advantage over its full size compatriot however – there is no need to paint it.
Back to February 2010