Clyde Gateway acquire Bridgeton's Olympia Theatre
January 20 2010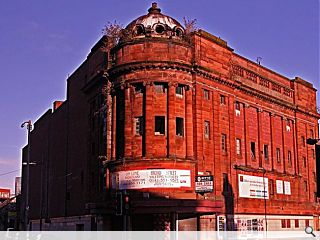 With construction work underway on the Chris Hoy Velodrome at Parkhead, Glasgow, Scotland's largest Urban Regeneration Company,
Clyde Gateway
, is finding itself increasingly in the public spotlight.
The agency faces an onerous task as they seek to rejuvenate a vast swathe of Glasgow's east end from industrial blight to hot property. A tough ask in an area where boys of 15 have only a 50% chance of reaching retirement, 40% of derelict and vacant land lies within the East End/South Lanarkshire district.
Further, drainage on the Clyde is at "choke" point requiring extensive SUDS provision to prevent inundation of any new build property
These are just some facets of a litany of statistics which paint a depressing picture of our near east a situation worsened by the unfortunate timing of a business plan presented in May 2007 which optimistically trumpeted a projected £1.5bn of private investment… four months before Northern Rock went bust.
Now the regeneration agency is reliant upon £150m in the short term.
All is not lost however as the area sports some genuine attractions, prime river land, excellent rail links, an under construction M74 and planned East End regeneration Route outline future paths to prosperity, leading the way to the 2014 Commonwealth Games which have focused everyone's minds.
From their Bridgeton Cross offices Steve Pritchard, does not have to look far to see evidence of the organisations local impact. Across the road lie the derelict remains of the Olympia theatre, a sore point with locals for years.
Now Gateway has acquired the historic property with government support, designs are being worked up to transform the famous structure for restaurant and public use with offices above.
Sadly however a series of historic tenements within Dalmarnock itself will not be saved, Pritchard states that these homes fall within the Athletes Village site and are too expensive to bring up to standard.
Image taken by
billielolasorcha
.
Back to January 2010