Raploch regeneration to be led by Cruden and Wimpey
July 1 2006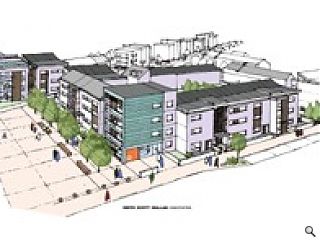 'R3' – a joint venture consortium of the Cruden Group and George Wimpey - has won preferred bidder status for a £120m ten year project to transform the Raploch area of Stirling.Gareth Hoskins and Smith Scott Mullan are working on the masterplan for the area.

As well as building 650 private and 250 socially rented houses on behalf of the Raploch Urban Regeneration Company, the R3 (Raploch, Reinvented, Regenerated) consortium will also build a new community health complex at Orchard House, facilitated by British Health Enterprises. The Raploch URC also plans to build a new health campus, a community and educational campus which will consist of two primary schools, a family centre/out of school care nursery, a community centre, sports facilities, a special educational needs facility and a riverside walkway area.

R3 consortium partner Steve Simpson said: "Our proposals for the rejuvenation of the area are not just about building and supplying new houses. We will be creating a modern community that is fully integrated with its' physical environment, has access to state-of-the-art health and educational facilities, as well as easy access to technology.

We'll build a bespoke range of Eco-homes and apartments in a range of sizes and styles – all designed with energy efficiencies in mind, with each home boasting an Eco home rating of 'very good'. This is a first for Scotland and it raises the benchmark in Scotland for home recycling, water efficiency, and energy efficiency. We're also exploring 'alternative/renewable energy' options with Buccleuch Bio Energy to offer individual 'Biomass boilers' or a district heating system offering Combined Heat and Power".

The consortium has teamed up with Stirling based, Hometech Integration Ltd and Siemens to supply digital connectivity technology to all homes, meaning every property will boast digital/home integration and cabling to allow WI-FI, internet access, digital TV/entertainment and provision for a home office which is also a first for Scotland on a development of this size and scale.
Back to July 2006