Dundee station revamp hits the buffers
December 23 2009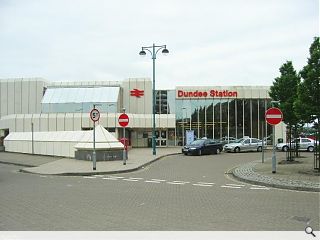 Dundee is to make fresh calls on Network Rail for an upgrade of its un-aesthetic rail halt after fresh passenger statistics revealed it to be the ninth busiest in Scotland.
Local politicians are stressed by the poor impression the facility gives for visitors and business travellers and fret that this will tarnish many views of the city.
Dundonians are particularly irked that Haymarket Station has received £190m refurbishment with no new money coming there way, despite comparable passenger figures.
Network Rail insist that any work to Dundee would be purely cosmetic and money needs to be targeted on operational need. They further argue that the bulk of the money lavished on Haymarket was sourced from a private consortium and Edinburgh City Council.
Tentative plans exist for a £10m remodelling of the station as part of the wider waterfront regeneration this would create a new first class lounge and provide improvements to access and facilities after
WMUD
developed a range of options for the stations redevelopment.
Talks continue to resolve this impasse but Network Rail remain adamant that no support will be offered on cosmetic grounds.
Back to December 2009