Irvine Bay to renew Bridgegate House
December 21 2009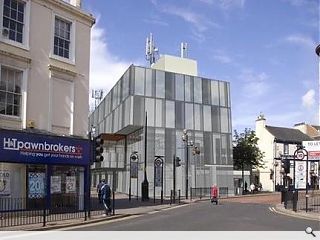 North Ayrshire Council and Irvine Bay Regeneration Company are to proceed with a £3.3m makeover for Bridgegate House, Irvine.
Refurbishment work will see the tired a 1960's commercial block in the centre of town be enveloped by a new glazed cladding system with the frame of the building extending down to street level as columns to create a shopping arcade.
The move follows an earlier feasibility study from the development partners to look at ways of rejuvenating the landmark block which was described by Alan Simpson, Head of Urbanism at the Mackintosh as "Grossly out of scale, ugly and badly maintained."
This work is a key component of a wider regeneration plan for the Bridgegate area to strengthen connections between the Rivergate Centre and old town.
Back to December 2009