Shelter launch House Bling initiative
December 16 2009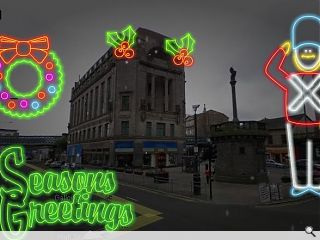 Shelter are seeking to instil a touch of festive cheer to gloom cloaked streets this Christmas with the launch of an interactive home decoration website.
Utilising the mechanics of Google Street view users can type in their address and zoom in upon any home, office or architectural marvel you fancy.
From there a simple menu system allows you to bedeck your chosen property victim with funky neon lights, psychedelic signs and drifting snowfall.
Once satisfied with your luminous meddling the image can be saved and fired off to friends and family.
The
House Bling
initiative is part of Shelter's Big Build Up to Christmas Campaign which is helping to raise money for those facing repossession, homelessness or bad housing.
Back to December 2009