Historic Scotland evoke traditional building skills with one off screening
December 16 2009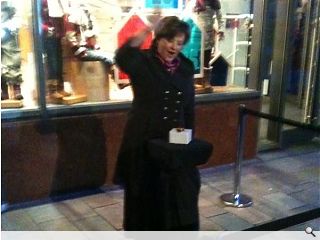 Fiona Hyslop, Scotland's newly installed Minister for Culture and External Affairs, has launched into her new role by officially switching on a projection of archive film footage to the façade of Buchanan Galleries for Historic Scotland.
Working in partnership with Scottish Screen a range of films depicting construction techniques from days gone by were put on display, including brick making at Glenboig and construction work in Clydebank.
Hyslop intends to "energise a new generation" by bridging the cultural and generational gap between Scotland's past and present, a timeous Christmas carol for the thronging present hunters outside.
Historic Scotland is keen to keep alive traditional building skills in the country and sees initiatives such as this as helping in that aim.
Sadly the display ran for a mere few hours and has subsequently been switched off.
Media reports had labelled the move a "demotion" but Hyslop stressed: "I've been told this is the best job in government!" Responding to concerns as to the fleeting nature of past incumbents in the post Hyslop said: "It's not a case of how many Ministers there have been it's a case of what each Minister does."
Back to December 2009