Robert Gordon University student makes a stand
|
Send to friend
October 26 2009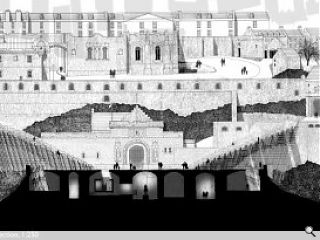 Claire Bonner, a student at Robert Gordon University, has won the Association for Project Safety's Student Awards with the Dun Eiden permanent grandstand for the Edinburgh Military Tattoo.
Designed to replace the unsightly temporary scaffolding which detracts from views of the Castle and prohibits movement, the hypothetical scheme would utilise vaults below for exhibition space and carve out a series of pathways and hollows to the underside of the stands.
Monuments on site would be moved to the esplanade whilst a series of hydraulic lifts would allow them to be lowered for key events.
Highlighting the sustainability of the build Bonner proposes that the stands be constructed solely of timber.
Back to October 2009