Reiach and Hall knocked back from George Square
|
Send to friend
October 22 2009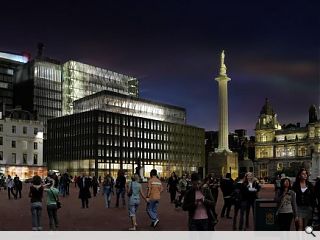 Reiach and Hall have been dealt a blow after their £65m plans to transform George House on Glasgow's George Square were thrown out by councillors.
Voting eight to six against the plans, the scheme was rejected despite being recommended for approval by planning officers.
Justifying the decision councillor Paul Coleshill expressed the personal opinions which swayed the decision branding the scheme an "aesthetic disaster" that "resembled a failed 1970's building" and was "neither ambitious nor a good pastiche of the past".
The rebuttal comes days after GCC granted approval to the controversial Glasgow Harbour masterplan amidst claims of a detrimental impact on Glasgow city centre.
George Square is widely held to be an embarrassment to the city with poor quality paving, tacky events and traffic clogged access.
It was into this environment that developer Redevco had hoped to address the weak architecture to the north side of the square with a dramatic glazed pavilion, creating a public arcade, roof gardens and restaurant on an elevated space.
Redevco may now appeal the decision.
Back to October 2009