Glasgow Harbour retail expansion approved
|
Send to friend
October 21 2009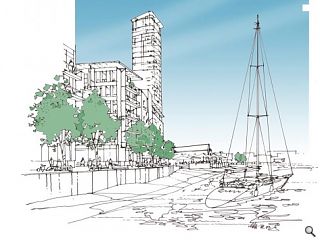 Planning permission has been granted for a colossal £1.2bn retail and leisure development at Glasgow Harbour, to howls of protest from high street retailers.
Stores including House of Fraser, Debenhams and John Lewis are up in arms at Peel Holdings plans which will dramatically reshape retail provision in the west end, with knock on consequences for the city centre.
Brushing aside these fears however Glasgow City Council claimed any impact on trade would be "minimal", despite seeking a moratorium on all future out of town retail developments as recently as October.
This strategy was being looked at to counter evidence that the recession and a glut of recent mall space had contributed to a deterioration of retail provision in the city centre.
Glasgow now has more shopping malls than London.
As the Council are a stakeholder in the plans final approval will be referred to the Scottish Government.
Back to October 2009