Plans in train for station hotel
|
Send to friend
October 16 2009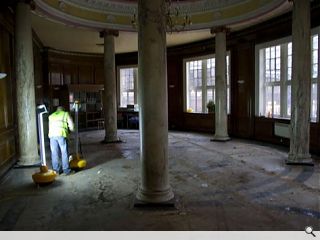 Principal Hayley aren't hanging around for their four star Grand Central hotel development at Glasgow's Central Station.
The hotel operator is busily stripping out the Rowand Anderson edifice in anticipation of planning approval to restore the landmark structure to its former glory.
Historic Scotland were said to be "horrified" by some of the crass alterations made to the famous haunt over its long decline, including partition walls, suspended ceilings and the destruction of period features.
To rectify this a budget of £20m is available to Crerar Architects who plan to reinstate period features and install a dramatic chandelier cascading down through the central grand staircase, dramatised by a polished floor and reflective ceiling.
Focus for the works are first floor public areas, where marble flooring is being uncovered from beneath dated carpets to provide a new champagne bar overlooking the station concourse.
Business travellers will be targetted through rejuvenation of a 350 seat conference hall complete with revealed capitals and a recreated coffered ceiling, traditional in feel but with modern touches.
Hayley believe that this investment in a time of recession will net them "sensible" quotes on work and stress that this is a profit driven venture, calculating that revenue streams from a fully operational hotel would recoup a profit for shareholders investment.
This entails spending money wisely with asbestos contaminated basement areas simply cleaned up and sealed whilst attic spaces will remain similarly off limits.
A frenetic schedule is being followed which could see the hotel open its doors by April 2010.
Back to October 2009