Mall pall on Glasgow city centre to be outlawed
|
Send to friend
October 2 2009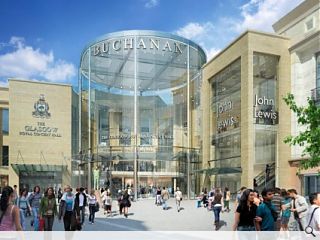 Glasgow City Council (GCC) is seeking a moratorium on further out of town retail parks and extensions in the face of mounting evidence that the recession and a glut of recent mall space have contributed to a deterioration in retail provision within the city centre.
Glasgow's "Golden Z" is looking increasingly tarnished with a number of vacant properties now visible on the city's premier shopping thoroughfare including an apparently stalled outlet of Hagen Daz in the Athenaeum.
The situation is worse on Sauchiehall Street and Argyle Street which are experiencing a mushrooming of pound shops and low rent occupiers, a situation not aided in the latter instance by Selfridges continued prevarication.
Fears remain however that developers will simply leapfrog the council's jurisdiction to aquiescent neighbouring authorities.
City centre malls will still be encouraged with BDP's giant extension of Buchanan Galleries being given the green light.
Back to October 2009