Mackintosh's masterpiece
September 25 2009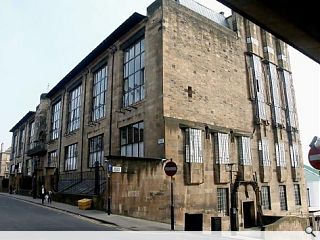 In celebration of the centenary year of Mackintosh's Glasgow School of Art (GSA) building the BBC have produced a one off documentary to tell the story of its genesis, history and future, continuing the posthumous celebration of an architect unappreciated in his own lifetime.
The GSA was in fact conceived, commissioned and driven forward by the drive of Francis Newbery, headmaster of the school at that time. However it was Charles Rennie Mackintosh, then a draughtsman in local firm Honeyman and Keppie, whose name came to be indelibly linked with the endeavour.
Mackintosh was a student at the school when he designed it, working on his designs by day and studying by night, this informed a deep understanding of the needs and wants of students and provided the confidence to pursue a style not behoven to then prevailing historical styles.
This saw Mackintosh develop his own custom motifs and seek inspiration from Asia for the innovative use of timber. In addition an extended evolution of design from 1897 to 1909 saw the facade split into a 19th century scots baronial side and a moderist façade, east and west elevations would have looked very similar if built at once.
One former student, Alan Dunlop, said: "The brilliant thing about this building is that it's still functional, that shows you the genius of Mackintosh. It was beneficial to Glaswegians that this wasn't all built at once because at the end Mackintosh was no longer a young architect, he was at the peak of his powers.
"At that time buildings were very fruity, they were baroque, they were exuberant. In that context Mackintosh was really quite restrained. The phrase for the modernist movement was "form follows function", the idea that a building should encapsulate in some way the events happening inside it, Mackintosh did that expertly, you have the big windows letting light into the studios as the beginning of an industrial aesthetic."
If Mackintosh cleared the road for modernism it's doubtful he would have welcomed some of its later expressions as Daniela Nardini commented: "Mackintosh may have become known as a pioneer of the modern movement but the art school is far removed from the bleak utilitarianism of modernism, Mackintosh designed according to human needs seeing people as individuals, not masses, who needed not a machine to live in but a work of art."
Success as an internationally recognised building brings with it its own complications however, notably the need to balance access between students and visitors a conflict voiced by Muriel Gray: "When I was here the Library was used for reference, not an hermetically sealed room for Japanese tourists".
Commenting on plans to replace a series of unfit for purpose buildings opposite the 'Mack' Gray had some words of encouragement for Steven Holl and JM: "Lets face it anything that goes up there, even if it's a B&Q garden shed, cannot be worse than that pile of phish that is facing the Mack like a ned trying to pick a fight."
The programme can be viewed online here,
http://www.bbc.co.uk/programmes/b00n0wrh
.
Back to September 2009