Lego demo
September 22 2009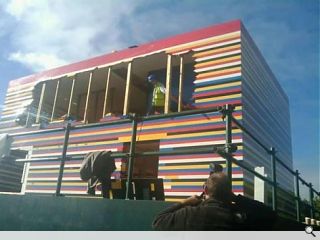 Demolition has commenced on Top Gear presenter James May's recently constructed Lego villa after a bill of £50k was quoted to dismantle and reassemble the plastic pile.
Legoland had been lined up to assign a plot for the unusual home, gauging it to be a star attraction for the home of all things Lego. But the building block theme park now say it is too expensive to move.
Around 1,000 volunteers assembled the two storey home in Denbies Wine Estate, Surrey, but the vineyard needs the land back to harvest grapes.
A facebook page had been set up by the TV personality in a last ditch bid to stave off the wrecking crews, ultimately to no avail.
http://www.facebook.com/group.php?gid=158959820943
Back to September 2009