Birmingham in Rapid Transport Vehicle push
September 21 2009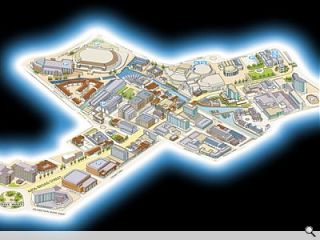 Birmingham is launching a Business Improvement District (BID) on the city's Broad Street, in an attempt to prise infrastructure and commercial investment to the area.
This is the second BID campaign for the area following an earlier push in 2005 which transformed the district under the banner 'Brighter, Safer, Cleaner', achieving a 50% reduction in crime over the period through introduction of taxi wardens, floral displays and a 'Walk of Stars'.
Key to the approach is appointment of an area manager with responsibility for overseeing cleansing, ensuring good relations between authorities and public and discouraging beggars.
Aiming to cement these strides businesses in the catchment area are being asked to subscribe to the scheme for a further five years under a new banner, 'Enhancing, Connecting, Developing' this time with a view to lobbying for a 'Rapid Transport Vehicles' (RTV) on a segregated looped traffic lane.
Backers claim this could be delivered for £10m within three to four years and leverage inward investment if agreement can be reached by a consortium of private sector developers and Birmingham City Council. If successful businesses in the area will be levied an additional one per cent of rateable income, generating around £2m per year.
It is suggested that introduction of an RTV route could precede investment in a full tram system.
Back to September 2009