Keppie take business park design to the Maxim
September 18 2009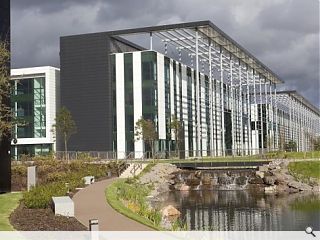 Maxim, at £330m and 756k sq/ft said to be the largest private sector office park in the UK, has been formally handed over to Tritax group this week with high profile political and sporting figures drafted in to mark the occasion.
A couple of months remain to formally finish off construction but already the park is ready for business with a monumental avenue of landscaped pavilions described as a "stage set" by architects Keppie Design.
Maxim is a product of the recent economic boom having been formulated at the cusp of commercial property prices in June 2007, a breakneck construction process through the intervening economic Armageddon has carried the project through in a single phase however with Maxim's unique financial and enterprise status cited as particularly beneficial for tenants.
Initially the site had been designated for distribution and industrial uses utilising the skeleton of Chunghwa picture tubes factory the site at half a mile long and a quarter of a mile wide proved simply too excessive for the available market.
At this point Tritax stepped in with ambitious plans to redesignate the land towards commercial uses as Richard Macdonald, director at Keppie revealed: "We inherited a fantastic site, it had already been platformed and a motorway junction, drainage infrastructure, power and water supplies were already in place.
"We started off with a stage set with buildings orientated around an L shaped park as the focal point. With any commercial scheme there are very stringent cost considerations that you have to work within and we felt the main approach facades would form the backdrop."
Key to this approach was the fostering of a sense of "togetherness" where most of the buildings, though unique, retain common details in eaves, fenestration, roof plant and materials. Macdonald states: "We have a family of buildings that hang together as one composition. Some of the other parks with five or six different architects working on different pavilions didn't hang together."
Parkland is dominated by a succession of ponds and waterfalls in what Keppie describe as a "serpentine feature". The intention being to create a sense of place on arrival removing omnipresent car parks to the rear of the building envelopes to leave an open environment for relaxation and social interaction.
Round the clock ambience is provided by Lighting Portfolio who have enhanced the sense of architecture and place through subtle lighting. "Too often we floodlight spaces with a lighting level that's way over the top," Macdonald says. "We reduced that to redirect funds to feature lighting to create different moods and subtle differences in the buildings."
With an events space, putting range, crèche, restaurant and bank Keppie believe they have created more than just another business park.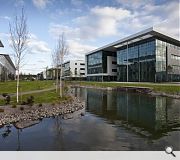 Back to September 2009