Students bring the big screen to small Ethiopian town
September 18 2009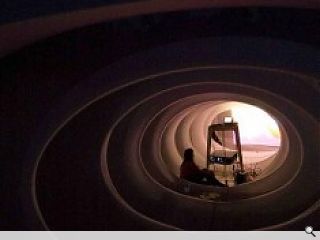 As part of an architectural investigation into sustainable growth in developing countries the Architectural Association School have designed, fabricated and transported a mobile cinema to the Ethiopian village of Lalibela.
Twelve students had just three weeks to raise funds, build the cinema and transport it across rough terrain.
Lightweight, cheap and easy to assemble the building can almost be packed into a suitcase but when fully unfurled it takes the form of a cylindrical enclosure which houses the projection equipment, the picture is then back projected onto the other end of the cylinder in a space that can double as an exhibition room during the day.
This isn't the end of the road for cinema Lalibela however with plans now in progress to raise £50k toward a permanent cinema facility in the town.
A short film about the project can be viewed on
Youtube
.
Back to September 2009