Vinoly opens NY School of Architecture
September 16 2009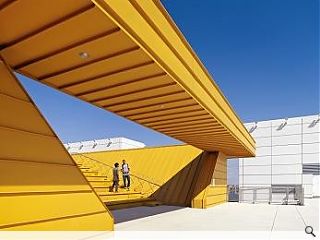 Rafael Vinoly Architects have completed work on the School of Architecture, Urban Design and Landscape Architecture at City College of New York.
Housing offices, classrooms, exhibition space and an open air rooftop amphitheatre the scheme is an overhaul of an existing library building from the 1950's which was stripped back to its structural concrete frame.
A central atrium allows daylight penetration and connectivity via a series of steel staircases and pedestrian bridges which open vistas and promote social encounters.
Externally the building is clad in pre-cast concrete with deep openings to allow the installation of feature louvers, designed to balance outward views with the need to reduce heat gain.
On the roof an open air amphitheatre overhangs the atrium with a full height celestory around three sides with an underside designed to scoop light into the interior.
Back to September 2009