Lighthouse campaign hits the blogoshere
September 7 2009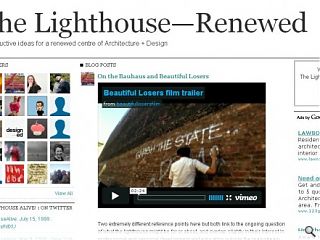 A blog has been set up to collate constructive ideas for a renewed centre for Architecture + Design at Mitchell Lane.
Over a hundred members of the creative community have signed up to the campaign which aims to look at ways of rejuvenating the contentious premises, which have long been cited as a financial millstone around the neck of its occupants.
With the Centre now in disarray the time is seen as ripe for a fresh approach to delivering a viable creative hub, a formidable challenge with 10 years of failed effort already under the former Herald offices belt.
Amongst the uses put forward by Architecture Scotland commentators were a backpacker's hostel, a Glasgow School of Art design school outpost and a publishing house… could Carnyx be on the move?
You can view the ongoing action at
http://lighthouserenewed.ning.com
.
Back to September 2009