St Andrew's House celebrates seventieth anniversary
September 4 2009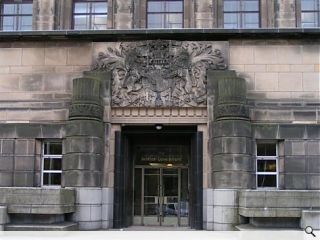 St Andrew's House, art deco headquarters of the Scottish Government, celebrates its 70th birthday today.
The Edinburgh landmark, designed by Thomas Tait, first opened its doors the day after war was declared in 1939 as the then largest metal framed building in Europe and the first instance of government departments serving Scotland being brought under one roof.
Grander statements such as the first floor gallery in the entrance hall, influenced by the RCA building at the Rockefeller Centre in New York, the original Secretary of State's room is panelled in walnut and ornate bronze doors designed by Walter Gilbert still impart an aura of inter war luxury.
Sadly economies had to be made in the internal fit out however with oak block flooring being replaced buy battleship grey lino whilst roof gardens were another last minute casualty.
A detailed exploration of the history of the building is available on the
Scottish Government website
, including a raft of inside stories such as 'using the main corridor as a golf fairway' and other chestnuts.
Back to September 2009