GHA demolish Shawbridge pair
August 31 2009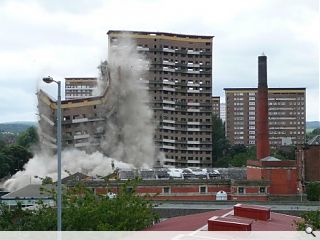 The scent of nitro glycerine was in the air at Shawbridge on Sunday after Glasgow Housing Association pulled the plunger on the latest multis on their hit list, their fate sealed following a decline in demand from tenants.
124 & 142 Shawbridge Street were reduced to rubble in a matter of seconds after months of careful preparation had stripped the blocks of all projectile material.
Cruden Homes are currently working with GHA to deliver 93 flats and homes on the site of an earlier demolition at Riverford Road, less than half of the 210 households once accommodated on the site.
Next in line for an explosive demise are three blocks in Sighthill, scheduled to fall in November during another spectacular night time demolition.
Back to August 2009