Hometown Foundation's Owenstown slated
August 31 2009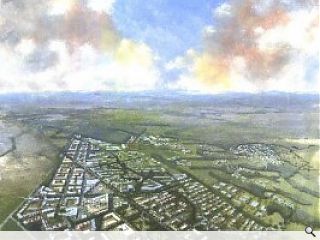 Plans for the new Lanarkshire settlement of Owenstown have been questioned by planning consultants as less new town and more new sprawl, raising doubt as to whether Owen would appreciate his name being usurped by the Hometown Foundation.
Willie Miller, founder of the eponymous Glasgow based urban design consultancy thinks not: "It's obviously quite ambitious but it seems completely disconnected from any idea of best practice in urbanism or strategic thought. I'm sure it makes more sense to support existing settlements and established metropolitan areas rather than developing at this scale in a relatively remote area - it could hardly be regarded as sustainable, carbon-conscious or in tune with the real issues around how we should build in the 21st century.
"People I have spoken to find it hard to see this as anything other than a second rate development opportunity wrapped up in marketing speak - and some see the Robert Owen connection as deeply cynical and unfortunate."
As a not-for-profit charity doubts have also been raised as to where the money will come from to finance a planned 20,000 homes within three years and precisely how its co-operative principles will be enacted.
Image is copyright of Owenstown Co-operative and the Hometown Foundation.
Back to August 2009