HLM's Southern General Hospital update
August 28 2009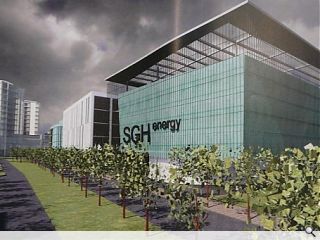 The latest revised masterplan for Govan's Southern General Hospital campus has hit planning officer's desks.
Being brought forward by architects HLM the adult hospital will take the form of a 14 storey tower after alternate options for space configuration were looked at, a single storey hospital for instance would have been 1.4km long and 140m wide.
It being established that height was necessary lift considerations subsequently propelled the design higher still as wait times take the largest hit of time time, favouring a taller build as additional floors do not significantly add to travel times.
Sitting on a robust masonry plinth the building will rise in lighter form above, with clear segregation of short stay patients in close proximity to entrances and public areas whilst longer stay patients will be grouped in further flung wards.
A new signalised junction will be installed on Govan Road to direct traffic up a central boulevard to the hospital proper. Construction of which is anticipated to commence in November 2010, ready for occupation by August 2015.
Boswell Mitchell and Johnson meanwhile are working on a separate £50m laboratory building at the complex. Clad in Tew patina angled seam copper, Ibstock linear Staffordshire blue slate to the base course and Sto render to rear courtyards, it will commence on site rather sooner, January 2010.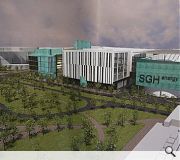 Back to August 2009