Rubbish idea for Milton Church
August 28 2009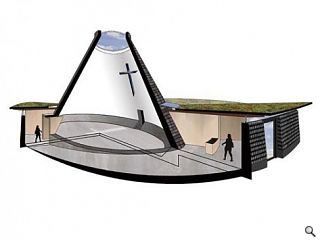 Innovative approaches to construction are nothing new from modular builds, prefabrication and an increasing adoption of timber. One approach that hasn't yet taken off however is the use of rubbish, yes rubbish, for the ultimate in environmentally friendly builds.
Colston Milton Parish Church in north Glasgow is pioneering this waste not want not technique, being as it is composed entirely of refuse, including beer cans, tyres and shipping containers.
Already recipient of £40k from the public purse, the church has been designed by architect Lee Ivett to both reduce environmental impact and cost. A traditional building approach would have cost millions prompting the congregation to adopt the radical construction technique.
Glasgow City Council will decide today if the project can go ahead, childcare facilities, internet café, theatre, office space and a games hall would all be provided for the community within the proposals.
Back to August 2009