Engineers propose decarbonising technology
August 27 2009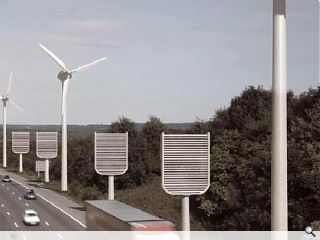 With the clock rapidly ticking down to an irreversible and accelerating shift in the world's climate and hoped for solutions ranging from Fusion power to Hydrogen cars still decades off efforts to address the problem are becoming ever more desperate.
This is where the Institution of Mechanical Engineers come in for they have devised three potential stop gap measures that utilise existing technologies that could give the planet that crucial extra time to develop a long term solution as Dr Tim Fox, Head of Environment and Climate Change at the Institute revealed: "After decades of failed mitigation, geo-engineering may give us those extra few years to transition to a low carbon world and prevent any one of the future climate change scenarios we all fear."
Three options have been put forward to achieve just that, the first being 'Artificial Trees', machines which trap CO2 from the air as it passes through absorbing fins. This material is then collected and later buried in identical fashion to current carbon capture technology. Each tree would be capable of absorbing more carbon per area than a thousand equivalent natural trees and would be sited in areas of high pollution.
However the United Kingdom alone would need to invest $2bn in the manufacture of 100k trees each absorbing 10 tonnes of CO2 per day to capture the nation's non-stationary and dispersed emissions. Nevertheless designs are already at the prototype stage and could be deployed rapidly, perhaps becoming an integral part of our landscape within 10 – 20 years.
A second approach applies strips of algae to buildings, these naturally absorb CO2 through photosynthesis and could be periodically harvested to provide biofuel whilst a third model of reflective buildings was also mooted, solar radiation could be bounced back into space simply by making surfaces more reflective, helping to reduce temperatures in urban heat islands.
Back to August 2009