New New Lanark
August 25 2009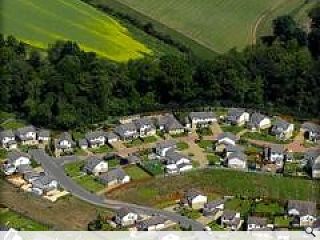 A new town of 8,000 homes is to be created in the South Lanarkshire countryside as a modern interpretation of Robert Owen's nearby world heritage village of New Lanark.
Managed and owned by its residents the community would be run on co-operative principles by the Hometown Foundation, a charitable trust which aims to enable community development.
Owenstown would promote economic development, encouraged through community enterprises to promote entrepreneurship and recreation space would feature heavily utilising renewable energy from waste and natural resources to provide a self-sustaining society.
All homes will be built using an on-site modular building factory and cater for a choice of tenure incorporating a range of accommodation from flats to mansions, however indicative images thus far shown display a suburban sprawl development pattern.
Geddes Consulting and JM architects are preparing the masterplan for the area which is currently out to public consultation prior to a planning application being made.
Further detail on the project can be found at
http://www.owenstown.org.
Back to August 2009