Dundee, the place to be
July 28 2009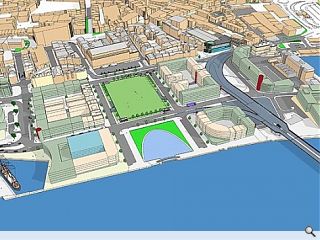 Dundee has come a long way from its jute, jam and journalism days, a fact proudly proclaimed by the cities new marketing slogan "One City Many Discoveries" which supplants this traditional notion of the city for one of video games, biotechnology and tourism.
Les Banks, Dundee Waterfront project coordinator at Dundee City Council City Development Dept, is an ambassador for this push saying: "The perception of Dundee is not good but this is a great place to live, whatever folk thought it was it's changed. We're getting on top of things in a way that some bigger cities can't.
"Everything we do is geared toward stemming an out migration of people and after years of population falls we're now looking at a balanced picture of incomers and outgoers".
Leading this charge on the ground Banks is overseeing an ambitious waterfront renewal plan that is adopting the vision, if not the architecture, of Dundee's 1911 waterfront master plan from city architect James Thompson. The scheme proposes reconnecting Dundee to the Tay by extrapolating existing streets down to the waterfront and developing a series of gridded blocks.
A range of active ground floor uses will be insisted upon for primary routes served by these developments, centred upon a public events space as big as George Square that will be at the heart of this waterfront quarter, providing flexible entertainment space for concerts, fairs and markets and complementing a planned V&A outpost which, according to Banks is now looking "much more likely".
To accommodate this expansion it will be necessary for a realignment of access ramps to the Tay bridge, their rationalisation permitting greater efficiency of land use and precedes demolition of a series of drab waterfront buildings from the Olympia Centre and Hilton to Tayside House, Dundee City Council's present unloved home. This will be demolished once Reiach and Hall's new council HQ is completed at Overgate.
Explosive demolition had been looked at to launch the regeneration with a bang but safety issues (and proximity to a railway tunnel) precluded this eye catching demise. Nevertheless Banks said: "We could have sold raffle tickets to the demolition, it would have paid for itself. Every Dundonian would have gladly contributed a fiver to the cause!"
Back to July 2009