A breath of fresh air for ventilation
July 28 2009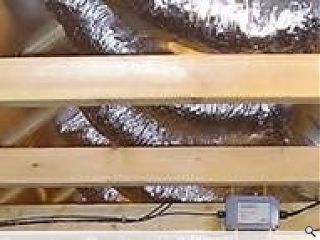 Environmental Building Partnership (EBP) are pioneering a dynamic breathing, building system that isn't just a lot of hot air.
As a commercial spin off operation from Aberdeen University, EBP have pioneered a dynamic permeable insulation solution that eschews the traditional thermal barrier for a fresh approach to heat loss.
A cavity wall permits air to circulate over an Energyflo cell which transfers heat energy to incoming air through conduction. In addition a filter system removes particulates from the atmosphere, providing a healthier living environment.
By employing this method the U-value measure of thermal conductivity can be brought down to near zero, negating the need to provide thick walls to accommodate layers of traditional insulation products.
Roof spaces are proving to be the primary testing ground for the technology, being both the primary source of heat loss and also allowing interventions to be made without decanting sitting tenants and the technology has already been embraced by Andrew H. Wilson in Orkney for an innovative housing scheme on the island.
Based in Alloa EBP has filed patents for the technology around the world, most recently in the United Arab Emirates where the system is inverted to provide natural cooling.
Back to July 2009