Massive mosque
July 22 2009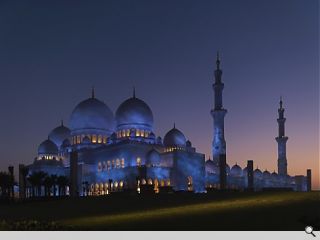 Speirs and Major Associates have just completed ground and exterior lighting on the Sheikh Zayed Al Nahyan Mosque, Abu Dhabi, United Arab Emirates. The third largest such structure in the world it can house a hefty 40,000.
Internally light sources have been squirreled away within architectural nooks and crannies, focussed upon a central art piece brought to life by fibre optic lighting. A gold curtain is pierced by glowing Arabic inscriptions, interwoven amongst illuminated vine leaves and fronds.
Externally lighting has been designed to cycle in accordance with lunar phases as Director Jonathan Speirs explains: "Our idea was to have a building that, by full moon, is lit pristinely with white light, but with a textural quality evocative of clouds slowly drifting in front of a full white moon. As the moon wanes over its 28 day cycle, the lighting grows gradually bluer to signify darkness. On the fourteenth evening the mosque is lit in deepest blue."
Halcrow acted as architect with Spatium and Milan working on the interior design.
Back to July 2009