Hi robot
|
Send to friend
July 20 2009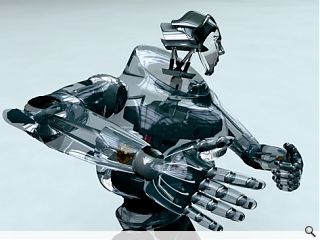 A group of leading design and technology organisations, including Sony, Samsung and the British Film Institute, have teamed up with Kingston University, London, to dissolve the barriers between art and science.
Postgraduate students on computer game and 3-D imaging courses will be given the opportunity to collaborate with science students on a Digital Media course which has been put together by a panel, including leading film production designers, to help plug a skills gap identified by the industry.
It is intended that games developers will be able to liaise with colleagues in such fields as robotics using the same context and language irrespective of their profession.
CGi Robotxtra courtesy of Darren Perianen, BSc Media Technology, Kingston University
Back to July 2009