Craig Amy strikes out
July 20 2009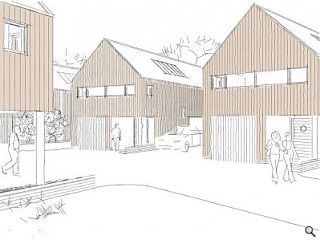 Craig Amy, a former associate with Richard Murphy Architects who worked on the Moore Street housing complex amongst others, has launched his own practice with a bang after his housing typology entry for Stirling Developments Calderwood comp scooped first prize.
Amy's winning entry takes the form of a 'long barn', predominately clad in timber, with an entrance placed at one end. Rooms are placed along one wall with the circulation and storage placed along the opposite side. This creates a blank wall, which forms the third side of the neighbour's courtyard, a sheltered space for socializing and outdoor living.
The layout goes against typical suburban housing, where isolated houses are surrounded by front, back and side gardens sitting in a cul-de-sac of unused front gardens and driveways. Instead, the houses are arranged around a communal space / street to the front, which allows back gardens to be maximised.
A profile of the practices work can be viewed at
www.craigamy.com.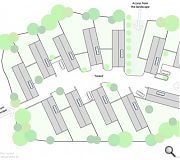 Back to July 2009