Calderwood comes good
|
Send to friend
July 20 2009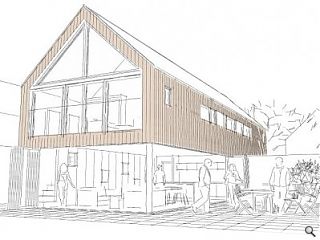 Calderwood, with an eventual 2,400 homes, is one of the largest such developments in Britain and is set to transform the suburban fringe of Livingston, zoned for mixed development in the areas local plan.
To impart a degree of design individuality upon such a mammoth estate a competition was organised by Peter Stirling, head of Stirling Developments, to provide both a new housing typology and a multi purpose community building for the site.
In total a dozen practices were short listed with some architects commenting that so many firms willing to take on all this work, without any commitment to build any of the schemes, was redolent of the current economic climate.
Wayne Hemingway of Hemingway Design lauded Craig Amy Architects, winner in the housing category, stating: "Liveability has been thought about, not just aesthetics, the corners of the house work well to marry inside and outside with modesty. By embracing the home zone concept Craig Amy have shown how spaces can work."
Of the runners up Duncan Whatmore, architect and urban planner, commented: "City Architecture Office seemed to understand the complexity of the site, which is detailed quite simply in a narrow palette of materials and forms that could combine into an achievable and elegant solution.
"Taking the gob ons away is a very modest way of making the basics work."
Lecturer and landscape architect Lisa MacKenzie meanwhile commended Amin Taha's entry: "Above all I appreciated the design sophistication of the project, the subtle way the buildings hover above the landscape, it's tackled the density with a sophisticated architectural style. You can imagine quite delicate spaces as you walk through the plan."
Laurence Wood stormed through as unanimous winners of the Community Building award, winning plaudits from architect Neil Beswick who said: "Wood have turned on its head what we thought might be a good spot for the community building on the landscaped jetty, it's beautifully presented and an easy winner."
Outline planning permission has been submitted and detailed permission will be sought for the first phase later this year with a hope to start development in 2010.
Images (clockwise) depict entries from: Amin Taha,
City Architecture Office and
Laurence Wood.
Craig Amy scheme depicted above.

Back to July 2009