C'mon Big Man
July 10 2009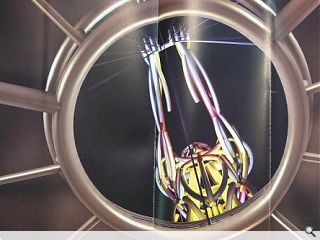 A planning application has been submitted to Glasgow City Council for "The Big Man", a dramatic skeletal steel figure towering above a three legged bridge at the Stockingfield junction of the Forth and Clyde canal.
Moody presence by day will be augmented by night with a dynamic lighting system to put the Big Man in the spotlight, certain elements of which will have an interactive response, signalling stresses the guardian experiences in his body as a result of loading.
Designed by Glaswegian sculptor Andy Scott working and Halcrow the sculptural presence will tower 30ft above the canal bank. Funding for the £4.5m structure will come from British Waterways.
Back to July 2009