Navy procurement Carries on
July 7 2009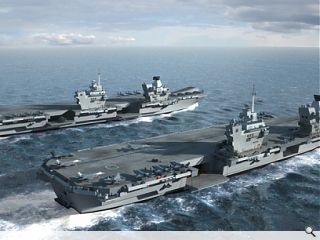 Construction work is officially underway on the largest warships ever to enter Royal Navy service after a steel cutting ceremony took place at a Govan shipyard where portions of two 65,000 tonne Queen Elizabeth class carriers will be fabricated.
The Princess Royal was on hand to activate a computer-guided laser that cut the first section of steel for the hull of the ships, three other sections will be assembled at yards in Portsmouth, Appledore and Rosyth prior to final assembly at Rosyth.
First Sea Lord , Admiral Sir Jonathon Band, said the vessels will form a cornerstone of the UK's future power projection capability: "These ships are not just spare airfields, they are an instrument of national power: the 'big stick' which can be waved by the Government in areas of strategic interest to influence, coerce and deter."
HMS Queen Elizabeth is the first full size aircraft carrier to be built in Britain since HMS Hermes 65 years ago and the sheer size of the carriers is reflected in the projected cost, £5bn for the pair, stoking some controversy over whether the money would be better spent re-equipping the army and RAF.
This unprecedented military commitment is dovetailing with an unprecedented recession requiring swinging cuts to be made to public services to balance the books, as ever this is leading to fierce debate as to where precisely the axe ought fall.
Back to July 2009