Student catches AA School's drift
July 6 2009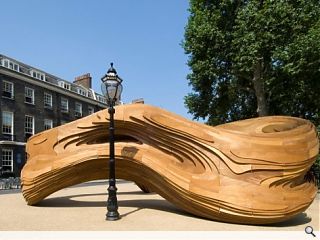 A sculptural installation has taken shape on London's Bedford Square, the work of student concept designer Danecia Sibingo.
Entitled Driftwood, the piece has been created to defy classification as art or architecture and was chosen by a judging panel that included experts drawn from the fields of engineering, design, media and ecology.
An undulating form is designed to evoke semblance of having been carried to site by the motion of water, a tribute to the UK's nautical affinity.
The Architectural Association School masterminded the project as part of their annual celebration of young architectural talent.
Back to July 2009