Speirs light shines bright on IALD night
|
Send to friend
June 12 2009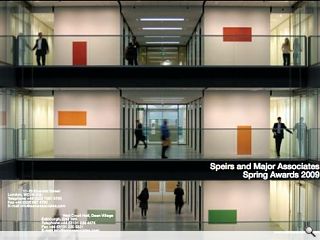 Speirs and Major Associates have scooped the IALD's top honour at the Radiance Award for Excellence in Lighting Design, for the second year on the trot.
Judges were drawn back for more by the lighting design of both lobby and atrium of Foster's More London office complex in London, whose spell of light was enough to convince that last years gong was no mere one off.
In fact Speirs made light work of the competition in general, walking off with a clutch of bells and whistles including two Awards of Merit, a Special Citation and two further IES Awards of Excellence for work that included BBC Scotland's HQ.
Back to June 2009