Oh, oh, oh, green giant
|
Send to friend
June 8 2009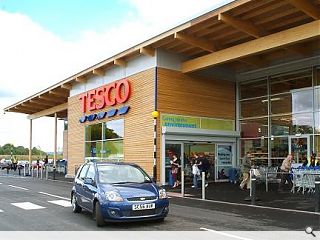 Tesco has opened the first in a new line of "greener" supermarkets in Dumfries today, claimed to have a carbon footprint 45% less than an ordinary supermarket with 80% of store waste being recycled.
This is achieved by architects Ian Burke Associates use of a timber frame instead of steel, timber cladding, energy efficient ventilation, natural refrigeration, recycling facilities, greater use of natural daylight and a combined heat and power system. All of which means that Dumfries now plays unlikely host to the most environmentally friendly Tesco store in the UK, part of the corporate giants plan to reduce its carbon footprint by 2020.
Rivals have however queried the contradiction in terms of a "green" store in an out of town location within a community which already plays host to two existing Tesco stores.
It is believed that the development will make it harder to attract people to the town centre.
Tesco counter that their own research indicated people were travelling outwith the town to shop and that the new facility will retain that spend within the local area.
Back to June 2009