Overarching ambition in Aberdeen
June 5 2009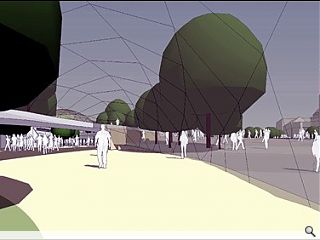 Aberdeen tycoon Sir Ian Wood has pledged £50m towards creation of a "new heart" for the city centre with Union Terrace Gardens.
A feasibility study for raised gardens over the Denburn dual carriageway revealed costs of between £110 and £140m.
Of the scheme Wood enthused: "This project has the potential to make us the Houston of the western hemisphere."
"The report and images present us with a real opportunity to become a world energy city."
It is hoped the works will enhance the stature of Aberdeen city centre to convince business and residents to commit to long term investment in the area as a regional centre.
The plans will now proceed to public consultation but have already stoked controversy in some quarters for imperiling a proposed Peacock Visual Arts Project. Many however regard the project as too important to abandon without looking at how the two may co-exist.
Back to June 2009