Sigma cracks sustainability enigmas
May 27 2009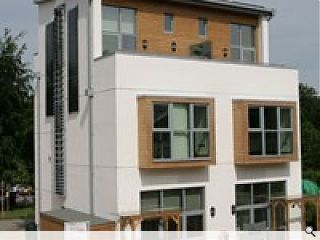 Stewart Milne are to publish research results for their prototype five star, near zero carbon Sigma home.
Comprising a pair of four storey, four bedroom townhouses, Sigma has been specifically designed to meet a new code for sustainable housing in England.
To demonstrate the liveability of the concept one home has been decorated and furnished for family living and has even been occupied for periods. The other home has been left empty as a control and to allow visitors to see underlying technology and layouts.
Designed by PRP architects the homes are an evolution of the Victorian terraced house and clad in a range of external renders and timber features.
Flexibility is the watchword for interior spaces with rooms configurable to the owners requirements allowing the home to adapt over time.
The two year research project conducted in partnership with Oxford Brookes University and the Energy Savings Trust.
Back to May 2009