Salford initiative strikes a chord
May 27 2009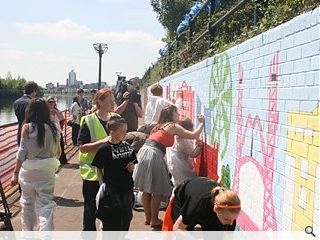 A Salford community have taken regeneration matters into their own hands by penning a colourful 35m mural alongside the river Irwell.
The city that gave us Lowry is flexing its creative muscle once more with a snaking depiction of Mancunian life in a drive to create an "internationally-recognised waterfront destination" for Greater Manchester on an 8km stretch of the river Irwell.
Comprising a key constituent of the wider Irwell City Park scheme, the mural helps create a chain of new public realm spaces and linkages in the former industrial mecca.
Back to May 2009