LEGO villas are go, go, go
May 20 2009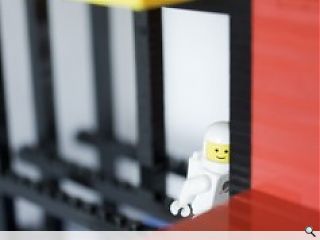 Voting has closed in our search to establish our top LEGO villa, but who will ultimately walk away with these plastic treasures? Bidding has opened on
www.jumbleaid.com/legovillas
and you are invited to take to the floor and join in the bidding war.
With the gavel lying on the podium bidding kicked off was a sly punt of £50 quid on the gm+ad piece, swiftly trumped by £60 offer on the RMJM item. Not to be outdone one anonymous bidder pledged a hefty £100 for the Hoskins piece, still a bargain in anyone's money.
One challenger was having none of it though and swiftly put down £120 smackers on RMJM, a clear winner? Not quite! The current highest bid is a not inconsequential £130 for the Hoskins villa, where can beach front property be purchased for so little? Here that's where!
Bíds are invited through to a May 28 deadline
Photography by Mark Seager.
Back to May 2009