Rain proof roof for Wimbledon
May 15 2009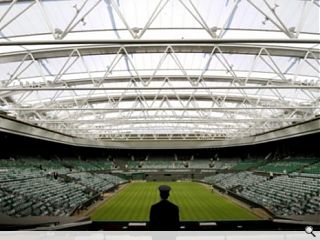 Over arching expertise from Booth-Muirie has finally put an end to Wimbledon's infamous summer deluges with the installation of a retractable roof over Centre Court.
The weather proof canopy can be extended within 10 minutes at the first hint of inclement weather, preventing such time honoured frustrations as cancelled play, soggy strawberries and impromptu Cliff Richards sing alongs.
A testing session is to take place this Sunday when when Andre Agassi, Steffi Graf, Tim Henman and Kim Clijsters will be the first players to put the new structure through its paces.
Back to May 2009